Go Rural is delighted to see Lambathon return in 2023 - our fourth year of bringing our family farms to your homes.
On our social channels Facebook, Instagram and launching the Go Rural TikTok, 15 farms, from all over Scotland, are ready to share the highs and lows of this super busy time of year on Scottish farms. Long time fans will recognise some familiar faces form previous years  and we have some new additions in the line up.
See lambs being born and meet the mums. Find out how the farmer cares for his sheep - and how the sheep care for their new baby lambs and see lambs being bottle fed. 
Facebook Live Everyday at 1pm - 1st - 9th April

Everyday from 1st - 9th April, Go Rural is broadcasting live on Facebook from a different farm! 
Join us at 1pm each day for a live tour with our farming families and of course, their lambs and sheep - here's the line up!
Saturday 1st April 
Duncan Family Farms, Stirlingshire 
The Duncan family have been farming livestock since the 1950s.​ They sell meat direct, have glamping and cottage accommodation and offer off road land rover tours. Their flock of 2500 sheep - Scottish blackface, Aberfeldy X Texel x and pedigree Kerryhills live out on the hills overlooking Loch Lomond.
Sunday 2nd April 
Craigduckie Shepherd Huts, Fife
Situated just outside Dunfermline, Fife​, Craigduckie has 1500 breeding sheep, mainly Welsh Shetland mules with some Shetlands, Beulahs and Texels. Craigduckies hand-crafted Shepherds Huts, Ewe View and Lamb Lookout, each provide luxurious glamping accommodation for up to two adults and two children.
Monday 3rd April
Incheoch Farm Holidays, Perthshire
Set in 1200 acres of farmland at the base of Glen Isla near Alyth, Perthshire, Incheoch, is a working family farm with three generations of McGowans living and working on farm. They have 1100 Sheep- Texel and lle​ - and are breeders of sheep for breeding stock. Incheoch Granary is a luxury, 4 * self-catering cottage, sleeping 6 - 8 on the farm. Private lambing experiences available. 
Tuesday 4th April
Bellevue Farm Tours, Arran
Bellevue is a traditional beef and sheep farm near Blackwaterfoot, Isle of Arran.​ The farm has around 200 Mule ewes put to a Texel x Beltex tup (Ram). Bellevue offer Farm Tours and Self Catering accommodation. Private lambing experiences available
Wednesday 5th April
Old Leckie Farm, Stirlingshire
Located in the heart of beautiful rural Stirlingshire, 7.5 miles from Stirling​. Old Leckie Farm is a small family run farm, specialising in local food, fabulous farm tour agritourism experiences and self catering farmstay holidays.​ They have 70 sheep. Private lambing experiences available
Thursday 6th April
The Snug at Logie Farm, Fife
Situated near Newburgh in Fife​, with a flock of 500 North Country Cheviots. The farm's 'snugs' sleep two people with a hot tub and firepit set on a private, natural hilltop. 
Friday 7th April
Fearn Farm, The Highlands
Located on the Tarbat Peninsula, Easter Ross, Highlands, the Scott family farm a range of sheep breeds with a flock of nearly 4000! The Mill at Fearn Farm is a flexible self catering holiday house which sleeps 14 in total or 4 in the Wee end and 10 in the Mill end.
Saturday 8th April 
Newton Farm Holidays, Angus
Located near Forfar, Angus, Newton Farm produces lamb, beef and goat. ​With 170 breeding and 350 commercial sheep. The farm has a 3 bed room holiday cottage or farmhouse B&B and you can visit them for a farm tour or alpaca walk! Private lambing tours available
Sunday 9th April 
Springfield Farm Holiday Pods, Edinburgh and the Lothians
Located near Penicuik with Edinburgh City only 10 miles away., the farm has 200 commercial sheep with 2 bedroomed Holiday Pods opening Summer 2023 which will have unspoiled views of the Pentland Hills. 
Instagram Takeovers

A new addition to Lambathon for 2023, some of our farms will be taking over the Go Rural Scotland Instagram for the day. Follow us to check out their stories, posts and reels! @gorural
Saturday 1st April 
Lennox of Lomond, Argyll & the Isles
Located near Loch Lomond, Argyll​, the Lennox/Wilson family has 2000 Blackface Ewes. The farm has luxury glamping with stunning views of Loch Lomond​ and farm tours for guests and day visitors. ​Private Lambing experiences are available. ​
Sunday 2nd April
Arnprior Farm, Stirlingshire
Located 12 miles from Stirling​, Arnprior keeps 1400 sheep, a mix of Aberfield, Cheviots and Scotch mules. The Farm is one of Scotland's original and first pumpkin farms, home to Scotland's only eco-friendly and luxury glamping pod and camping site complete with private hot tubs and a bespoke private indoor swimming pool.​ Private Lambing experiences are available. ​
Friday 7th April
Lindores, Fife
Lindores is situated near Newburgh in Fife, Central Scotland​, they have 450 Texel X Ewes and Scotch Mules. They are a family farm with five-star luxury holiday accommodation and rural retreats for families, friends, horse riders, bikers, dog owners and couples looking for romantic breaks.​
​Saturday 8th April
Ardross Farm, Fife
Located near Elie in Fife​, Ardross Farm keeps 130 breeding ewes. At Ardross Farm Shop you can buy everything you need to create a wonderful local meal traditionally reared beef, lamb, honey and fresh vegetables grown for sale direct to customers. In addition, they also provide a place where other local companies and products can be found every day. 
​Sunday 9th April
Jacksons at Jedburgh, Scottish Borders
South of Jedburgh in the Scottish Borders, the Jacksons keep 1200 breeding sheep - wool shedders and Texel. Followers of this 'farmfluencing' family will know, you will find family friendly farm tours, bookable experiences and seasonal events at Kersheugh Farm​.
Plus Instagram Content from: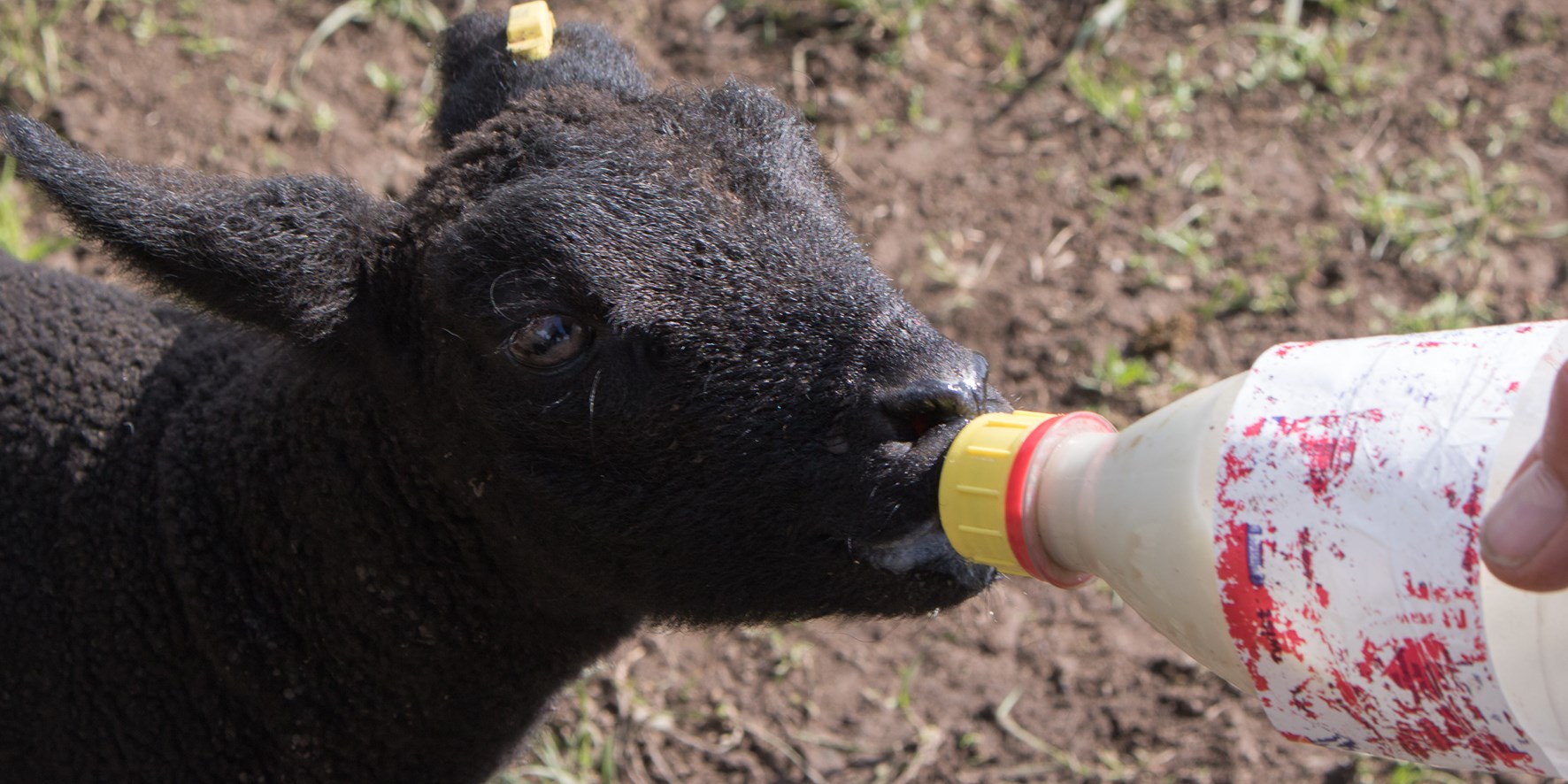 Kilmacolm Farm Tours, Renfrew
@kilmacolmfarmtours 
Located on a farm situated between Kilmacolm and Greenock. 420 North Country Cheviot sheep. Family run working beef & sheep hill farm offering family friendly trailer tours for parties large and small. Private lambing experiences available. 
The Hideaway Experience, Angus
@luxuryhideaways
Located in Angus, 15 minutes from Dundee​. 250 Ewes, Scottish Mules and Texels. The Hideaway Experience has four Eco Hideaways that provide luxury short breaks and holidays for couples and a romantic cottage. 
Bowmuir Farm Holidays, Lanarkshire
@bowmuirfarm
Unique family and dog friendly self catering cabins that sit in a peaceful woodland clearing on our family farm near Biggar. The Parker family have 85 ewes to lamb this year. The commercial flock are Shetland x Texel/Beltex and there is also pedigree Shetlands, Welsh Badger faces and Ouessants (the worlds smallest natural breed of sheep!). Amy, who is 10, also has her own small flock (10 ewes) that runs alongside Mum and Dads. 
Solsgirth Home Farm, Stirlingshire
@solsgirth_home_farm
Solsgirth Home Farm is near Dollar, in Clackmannanshire​. They have 100 breeding sheep - Mules and Cheviot. Solsgirth, is a community space where people can visit, learn and have fun. A local farmers market is run at the farm. and they offer farm tours and lambing experiences​. Solsgirth has beehives and sell honey, make cider and pressed apple juice and have various holiday lets​
Craigmaddie Muir, Fife
@craigmaddiemuir
Craigmaddie Muir is a private farming estate, lying 10 miles outside of Glasgow. The stunningly unique wooden roundhouse has a 180° floor to ceiling glass front, allowing you to take in the surrounding breath-taking scenery. The farm keeps 100 Blackface sheep and 250 Mules and Texels. 
Cowden Farm, Aberdeenshire
@cowden_farm_holidays
Cowden Farmhouse is a lovely dog-friendly, self catering house for up to 8 guests in a beautiful, peaceful and private setting, located 7 miles south of the lovely seaside town of Stonehaven. ​The farm keeps 700 North Country Cheviots breeding ewes.