Sometimes all you need is to just get away from it all; a quiet stay for two after the madness of the festive season; getting the whole family together uninterrupted for a special occasion; enticing the kids to put their electronics down for a week in the summer or a cosy autumn weekend with the girls. 
Go Rural has off grid farm stays where the farms have no 4G/Wifi and far flung farms in more remote parts of Scotland, where you and your favourite people can hole up and spend time just enjoying yourselves, clear your minds and spend time together on a real working farm in Scotland. 
Here are some our favourites.
West Moss-side Farm Yurts, Stirlingshire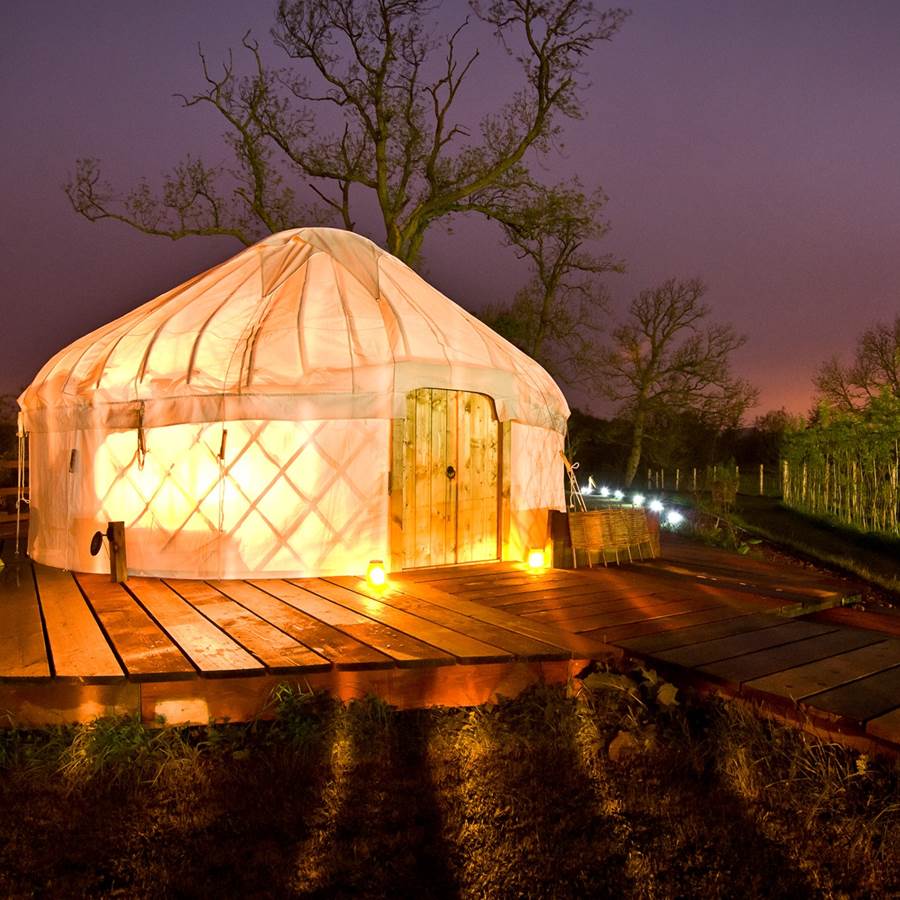 West Moss-side Farm has three spacious, off-grid, fully equipped self-catering Yurts available from Easter through to the end of October.
The Yurts are a part of a 150 acre organic conservation farm which is also home to rare breed Shetland cattle grazing on the Flanders Moss National Nature Reserve. Your hosts Kate and Graham (and Faith the collie dog) offer tranquility and something just a little bit different.
Tiny Home Borders, Scottish Borders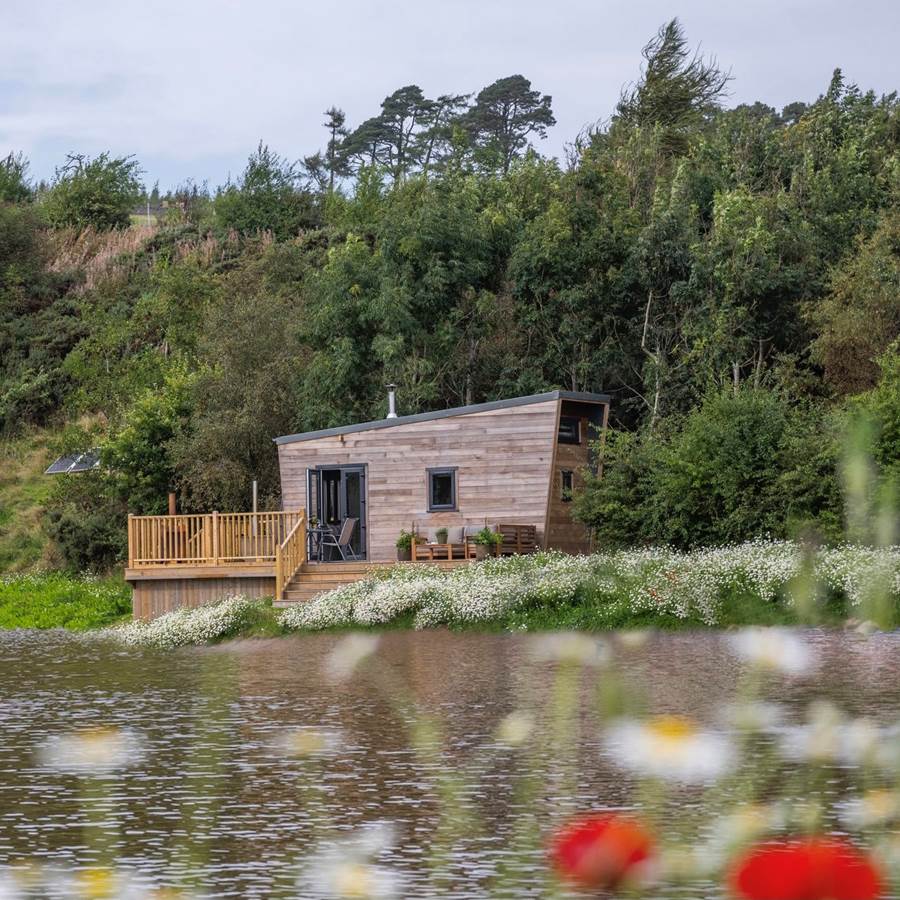 Tiny Home Borders is a Nordic-style retreat enjoying stunning views as far as the eye can see from the southern slopes of Ruberslaw hill. 
The farm's herd of red deer shares the hill with you and the raised deck is the perfect place to unwind after some outdoor adventures in the Scottish Borders. There aren't many places where you can head out wild swimming or paddleboarding on your own private Lochin, but Tiny Home Borders is one of them! 
Tiny Home might be off grid, but this solar powered eco-cabin has 240v sockets, plenty of indoor and outdoor lighting, a fridge, and to keep you cosy indoors, a log burning stove.
Burnhead Bothy, Kilsyth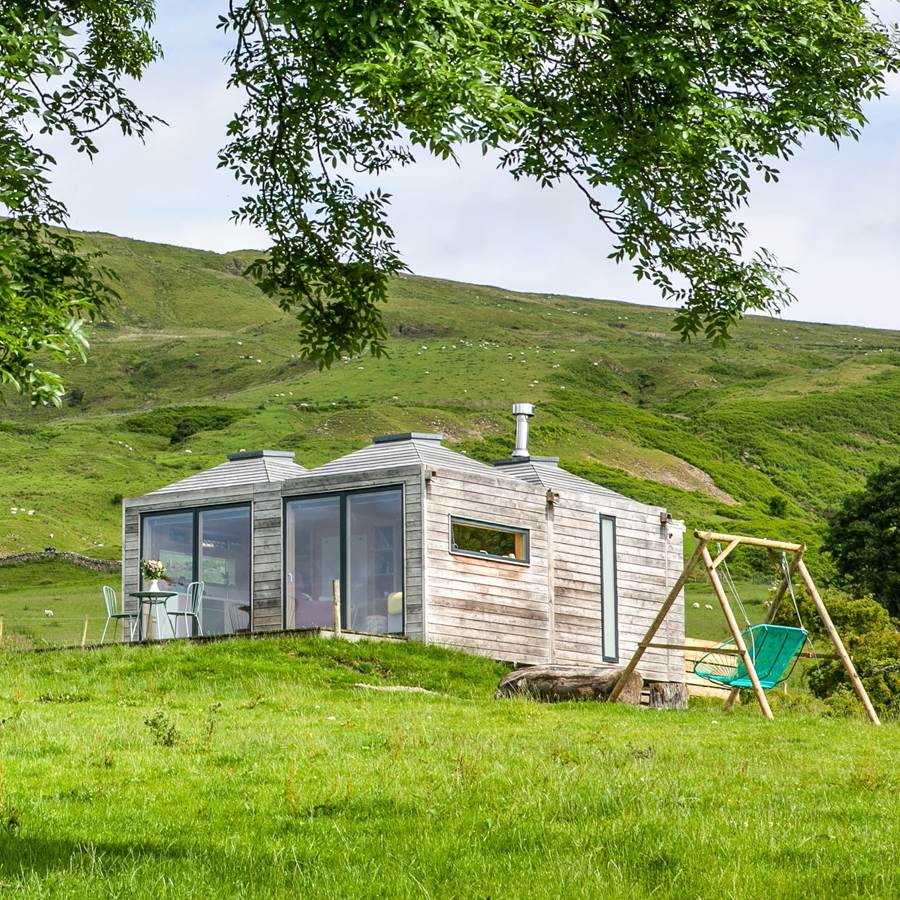 Burnhead Bothy is a glamping cabin based on a working farm run by 3rd generation farmer Duncan MacGregor and his wife Ashley.
The cabin is a part of the MacGregor's 1600 acre hill farm which has spectacular views over Glasgow and the surrounding area and is home to both cattle and sheep - including some Swiss Valais sheep!
The bothy can accommodate up to 4 people and has everything you need for a quiet and relaxing holiday. As well as being off-grid, the Bothy is also eco friendly - built with Sustainable Timber, Sheep's Wool Insulation and decorated with Environmentally Friendly Paint and more. 
Down on the Farm, Aberdeenshire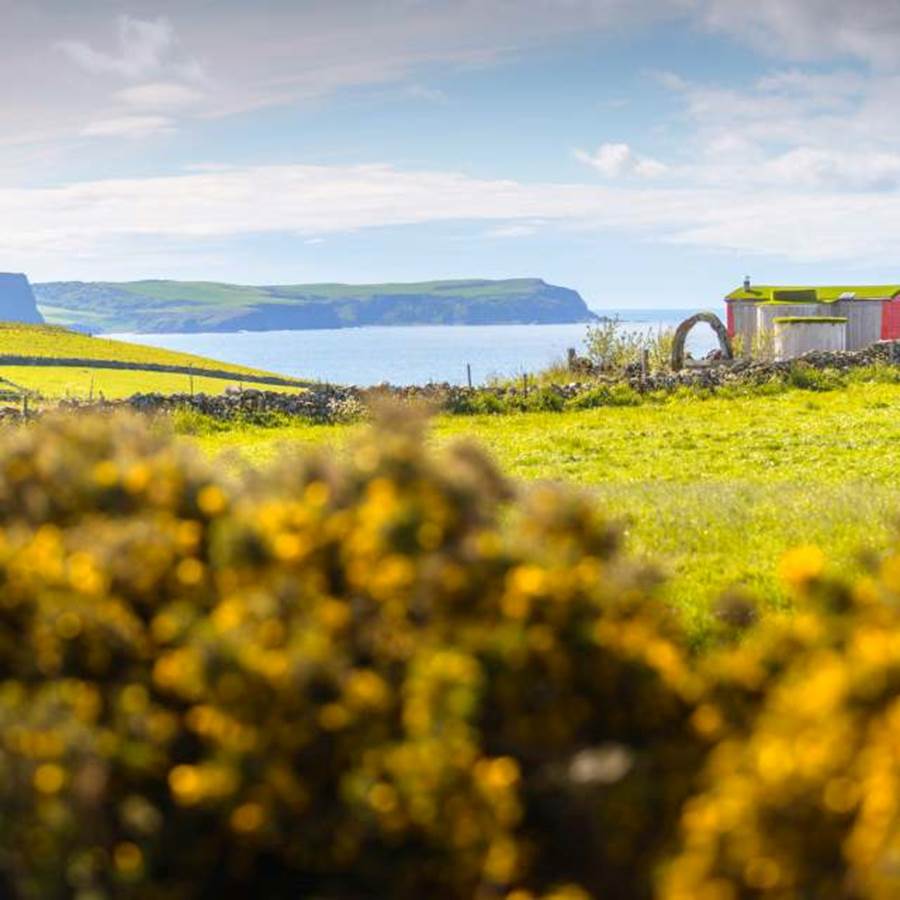 If you're looking for somewhere quirky to stay that will provide a rural base for your Scottish adventures, Down on the Farm in Aberdeenshire combines rearing their herd of beef cattle with unique glamping accommodation just over an hour from Elgin. 
The High Sea Hobbits, Harvest Hut, Coastal Carriage and Crossgates Cottage all enjoy fantastic views and are equipped with the essentials for a relaxing farm stay. Farm tours and added extras from your hosts Carole and Matthew make your trip to Stonebriggs farm all the more special.
Torrisdale Castle estate, Argyll and Bute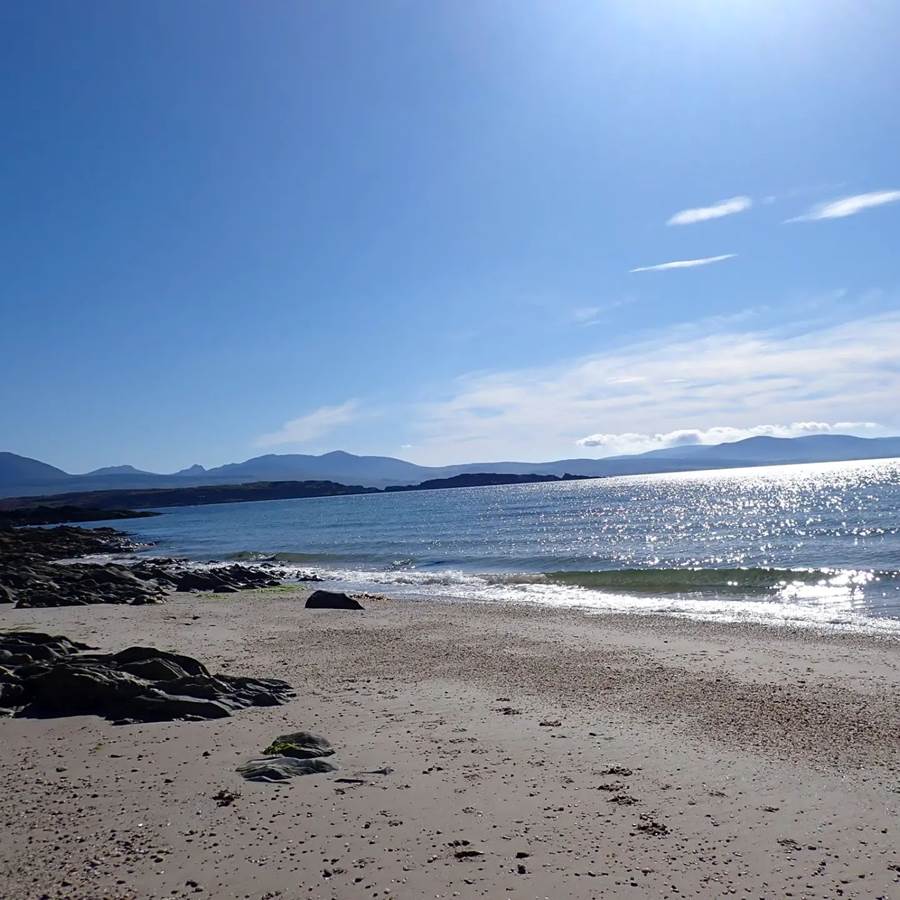 If you fancy going a little bit remote and venturing off mainland Scotland, check out this dramatic castle and estate on Argyll. Visitors can stay in accommodation that ranges from cottages and lodges to the Servants' Quarters (complete with sauna and hot tub) in the castle itself.
You will have access to WiFi here and the properties are all pet friendly – within reason!
A new farm café on the estate offers local food and drink and if you're a gin buff, the clincher is, Kintyre Gin is produced here.
The estate extends right down to the sea with views over to the Isle of Arran.                                                                                                           
Torrisdale Castle Estate Accommodation
Winkston Hill Farm, Scottish Borders
Jane & Stewart Aitken of Winkston Hill Farm offer rural breaks in their unique Shepherds Hut, just a couple of miles from Peebles in the Scottish Borders.
Whilst staying at Winkston Hill, you can enjoy their farm tours with some animal interactions, woodland trails or head out on an off-road adventure to Glentress Forest for some mountain biking. Edinburgh is just 45 minutes away so if you don't fancy being completely cut off,  you can really enjoy both town and country pursuits throughout your stay. 
Bellevue Farm Cottages, Arran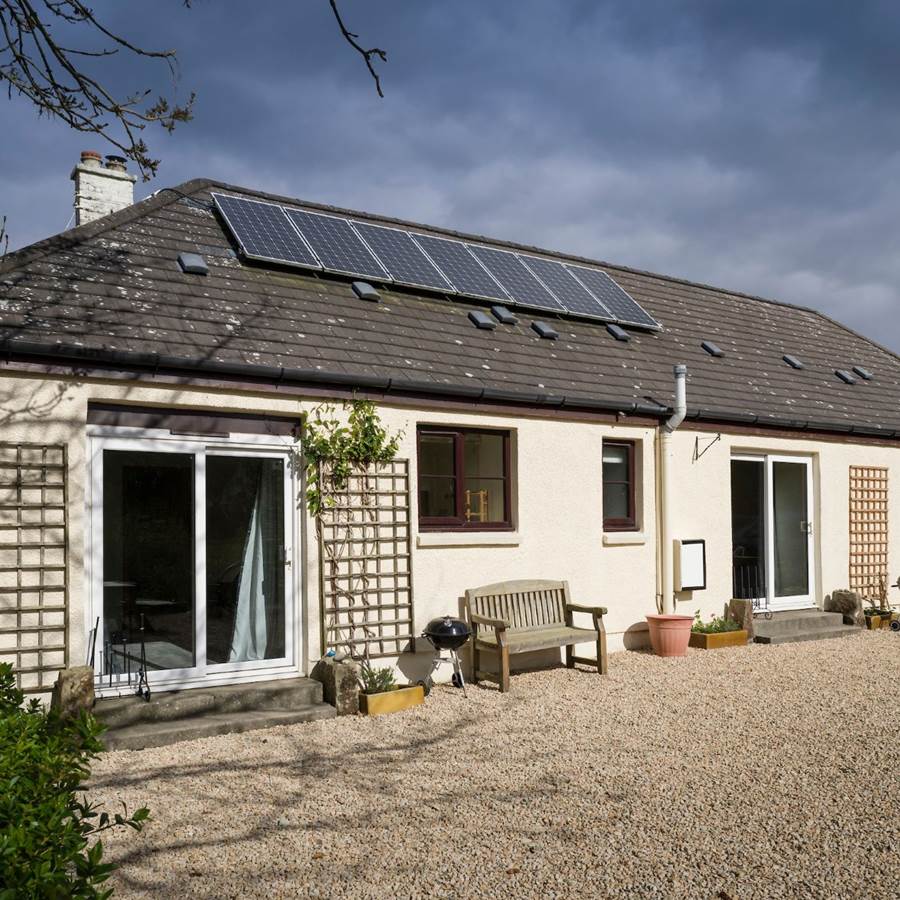 Bellevue Farm is only 48 miles from Ayr, you just need a boat to get there! 
Two cottages, both barn conversions, provide family friendly, self-catering accommodation with beautiful country and coastal views. Each cottage offers modern, comfortable accommodation for four people with patio doors onto a barbecue area and large, child-friendly garden.
At Bellevue Farm, you can also enjoy tours and experiences - meet the animals, see the machinery, collect the morning eggs or feed the alpacas, tours can be tailored to you - well worth the boat trip!
Dornoch Croft Holidays, Dornoch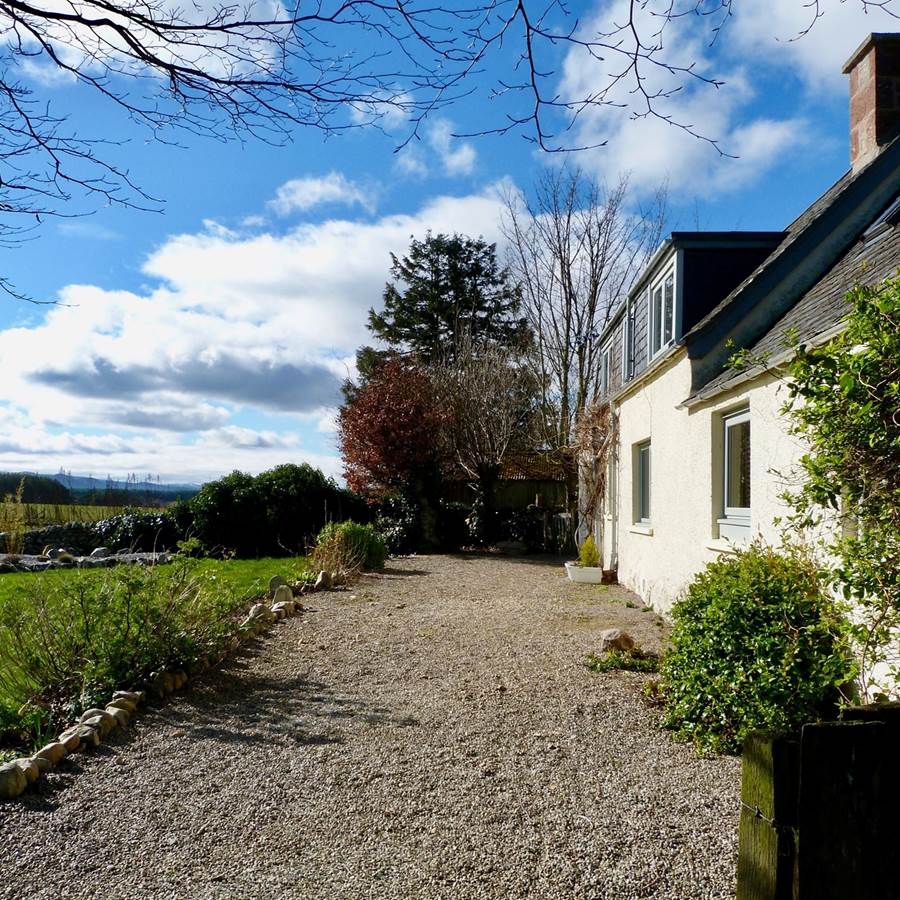 You'll find a small herd of Aberdeen Angus cattle and a small flock of sheep on Mill Farm, a working family croft, near the NC500 route. On site at Dornoch Croft Holidays choose from a self-catering crofthouse, static caravan or five fully serviced caravan/motorhome pitches.
The contemporary, rustic Croft House, over 200 years old, has hand- crafted wooden furniture, a woodburning stove, exposed stonework and has stunning views over the garden and fields.
The caravan is intended to provide reasonably priced accommodation in a unique location, sleeping up to 4. There's nothing luxury or cutting edge, just a neat, clean and comfortable place to stay.
The farm's conveniently located campsite is a Certificated Site (CS) with the Camping and Caravanning Club.
Culligran Cottages, Beauly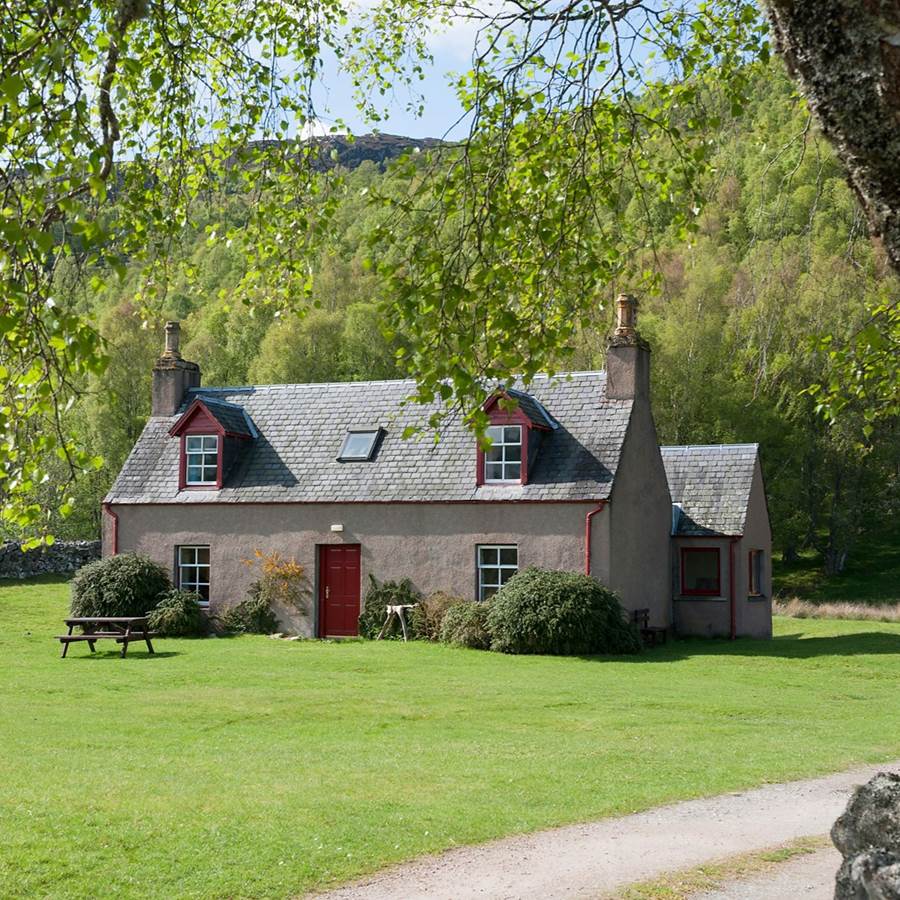 A perfect choice for those who love all things outdoor! Tucked away around 10 miles beyond Beauly on the Black Isle.
Choose from a traditional stone cottage or Norwegian-style chalets in the beautiful Glen Strathfarrar, surrounded by mountains, lochs, river and Caledonian pinewood.
Visitors have exclusive access to Culligran Estate, ideal for a spot of salmon or trout fishing, walking among the forests or hiring a bike to enjoy the estate's private tracks. Dogs are also welcome to stay at Culligran.
Treshnish & Haunn Cottages, Mull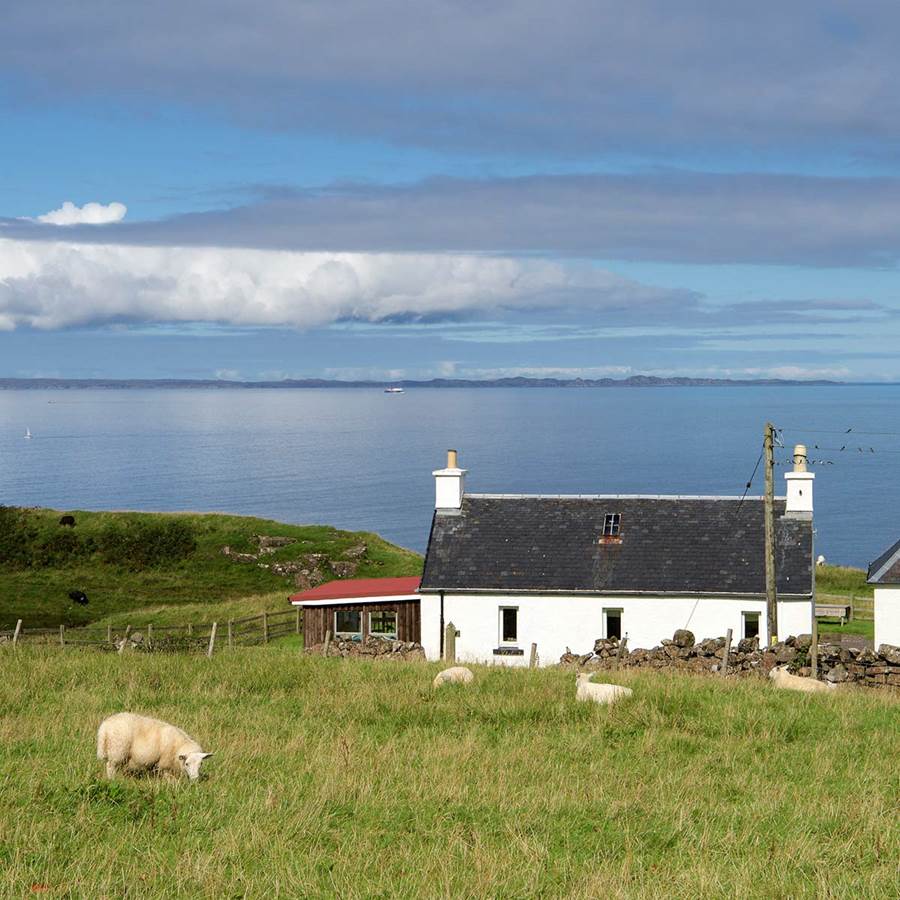 Treshnish and Haunn Cottages can be found on the stunning Treshnish Farm, on the Isle of Mull.
The Somerset family keep a flock of about 650 sheep and cows from another farm graze on Treshnish in the summer to support the management of the farm's habitats. 
There are eight cottages in total, with various capacities, some of which are dog friendly and all with gorgeous sea views, plenty of wildlife to spot, beaches and hills to explore.