If you love food and drink then Perthshire is the place to come.  Situated in the heart of Scotland, the region offers the finest examples of grown, reared, made and brewed products and many of these producers are farming families within driving distance of the city of Perth.
2.5 Miles: Gloagburn Coffee and Farm Shop, Perth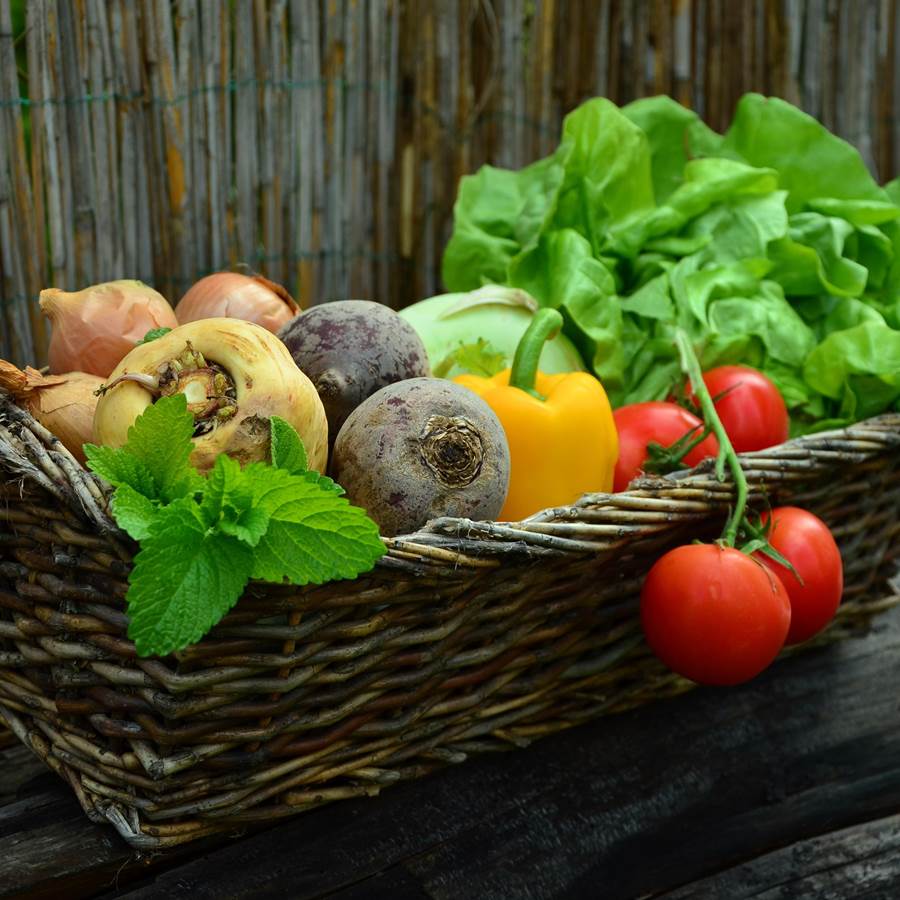 Open every day, with room for 130 covers, indoors and out, Gloagburn Coffee Shop is proud to make all dishes and desserts by hand onsite using the best local and seasonal ingredients. Not only that, all items on the Gloagburn's extensive coffee shop menu can be altered to suit for allergies, children's portions or dietary requirements.
The back bone of the shop centres around their own produce from the farm and kitchen: their traditionally raised beef and pork, free range eggs, oatmeal, and homemade savouries, sweets and preserves for your daily needs or that special occasion. They also stock world renowned wild venison, organic lamb and chicken, Scottish beer and gin, stunning wine, smoked meats, natural yoghurts and divine puddings to name but a few.
Gloagburn Coffee and Farm Shop
3.5 Miles: The Strawberry Shop, Perth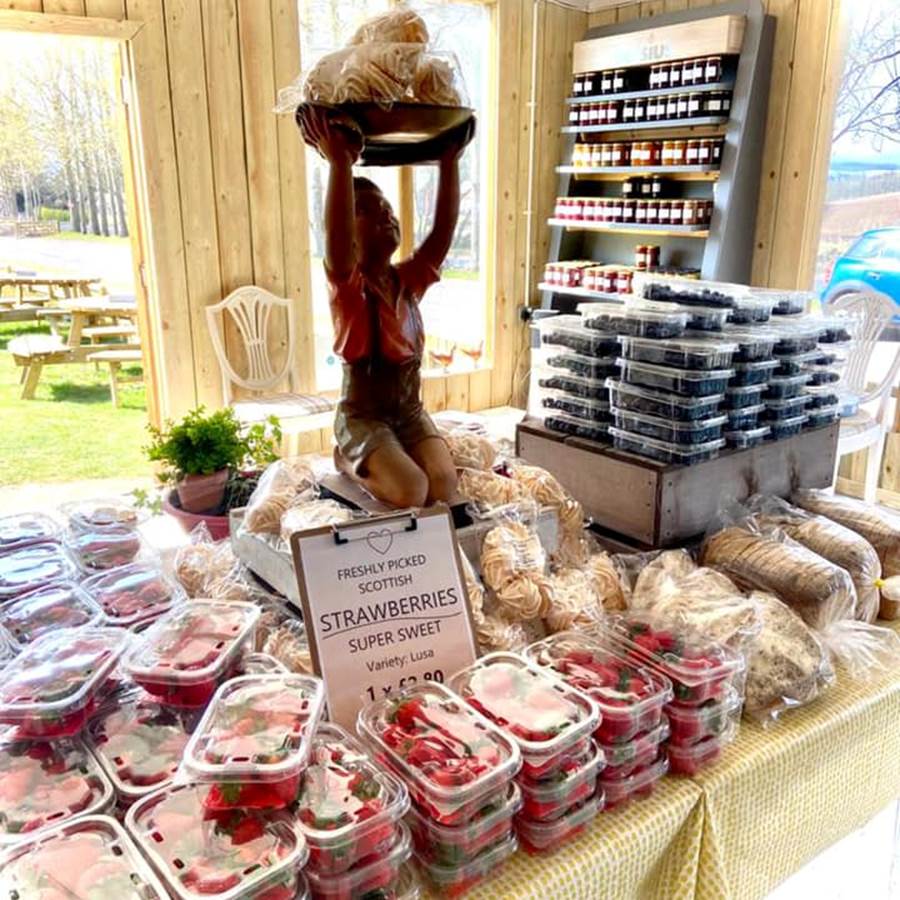 The first strawberry plant was planted on Scones Lethendy Farm in 1977 and they tasted so good that they planted more and began selling punnets at the side of the road from a quirky converted portakabin. Over 30 years later and not only are they still selling their  strawberries by the roadside, but have expanded into a summer treasure chest of the most exciting Scottish produce on offer!
Their mission is to source all things Scottish wherever they can and  support local growers and producers and promote seasonality at all times.Their selection includes Scottish strawberries, raspberries, blackcurrants, redcurrants and even gooseberries, homemade jams, cakes and local farmers' market products. 
Every weekend they pack up a van full of berries and homemade shop produce to trade at the Edinburgh and Glasgow farmers markets.
6 Miles: Hugh Grierson Organics, Perth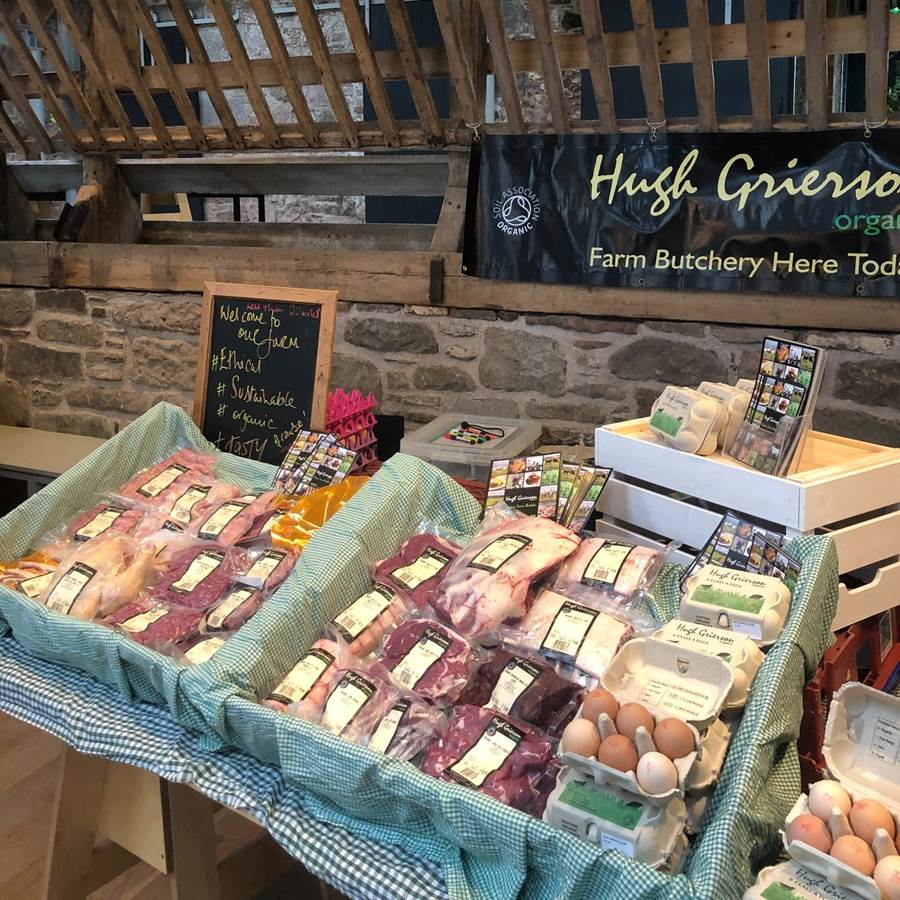 Grierson Organics is a small but busy organic farm butchery business that breeds, rears and processes Aberdeen Angus beef, home bred lamb, rare breed pork, slow growing chicken and free-range eggs. All produce from Grierson is certified organic with the Soil Association and all comes direct from the farm.
You can buy Grierson meat from the on-farm butchery on Tuesdays, Wednesdays and Fridays between 8am–4pm. Beside the butchery is a converted trailer that's always open for honesty-box sales of free range eggs and freezer meat.
If you're not able to venture out, you can order from Grierson online.
7 Miles: Stewart Tower Dairy, Stanley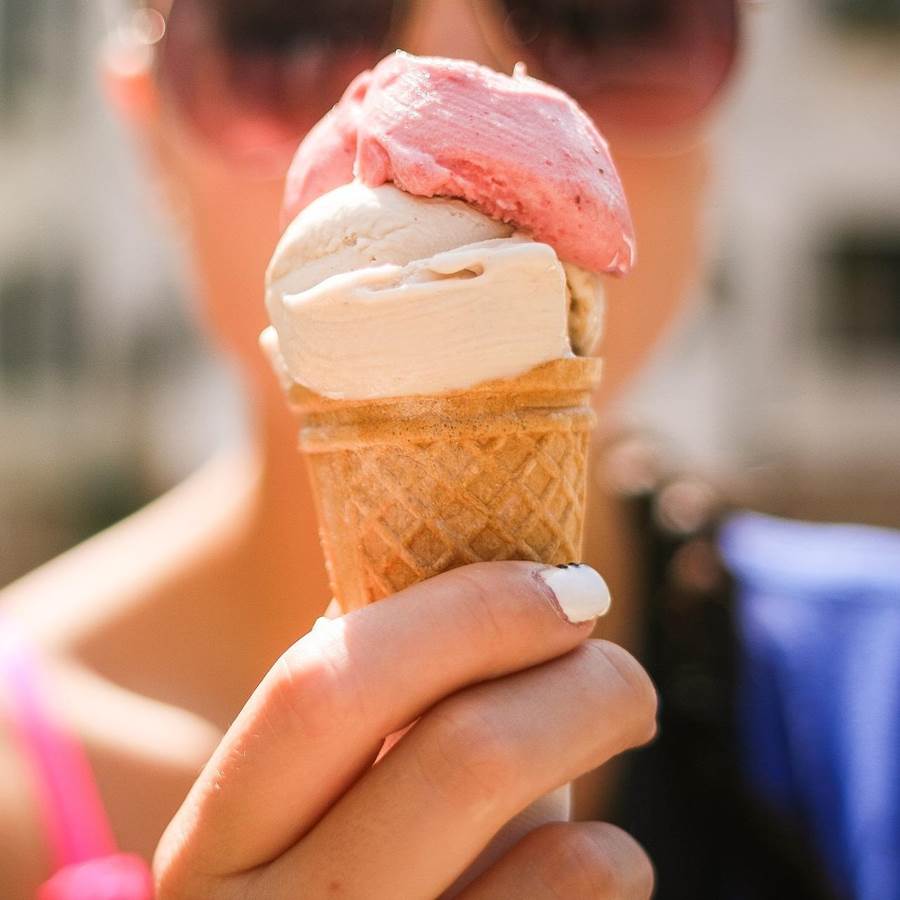 The tag line, 'from cow to cone', tells you all you need to know about Stewart Tower Dairy!
Close to Bankfoot, near Perth, the dairy produces ice cream to an authentic Italian gelato recipe from a herd of Holstein Friesian cows.  On site, The Roundhouse, is a coffee shop and ice cream parlour serving light lunches, traybakes, drinks and sundaes and of course, ice cream! The menu offers a range of tasty choices covering breakfast and lunch.
Adjoining the coffee shop is a well stocked farm shop selling fresh local butcher meat, a selection of fruit and vegetables, a variety of cheeses, ingredients and a selection of larger take home ice cream tubs to enjoy Stewart Tower from the comfort of your own home. The shop also stocks a selection of cards and gifts.
10 Miles: Cairn O'Mhor, Errol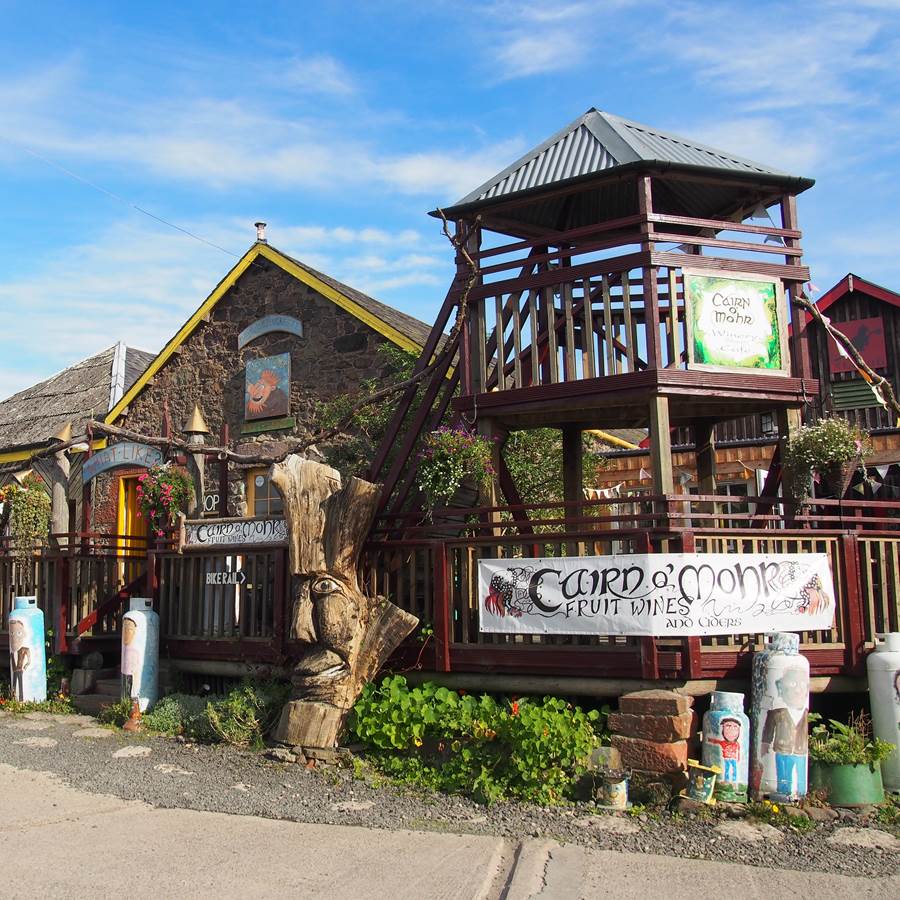 Set in amongst the rich fields and the hedge fringed country roads of the Carse of Gowrie, Perthshire, there's this strange Scottish winery.
Since 1987 Cairn o' Mohr has been brewing up juicy-fruity, berry loaded, blossom scented, leafy layered, award winning country wines, using the berries for which the area is famous, wild flowers, fruits and leaves. Fruit wines, sparkling wines, ciders and bourtree juices using near anything that grows.
Owners Ron and Judith Gillies believe in sourcing locally, and living in an area flush with wild ingredients and some of the best fruit in the world it's all there for the picking. 
18 Miles: Arbuckles Farm Shop, Dundee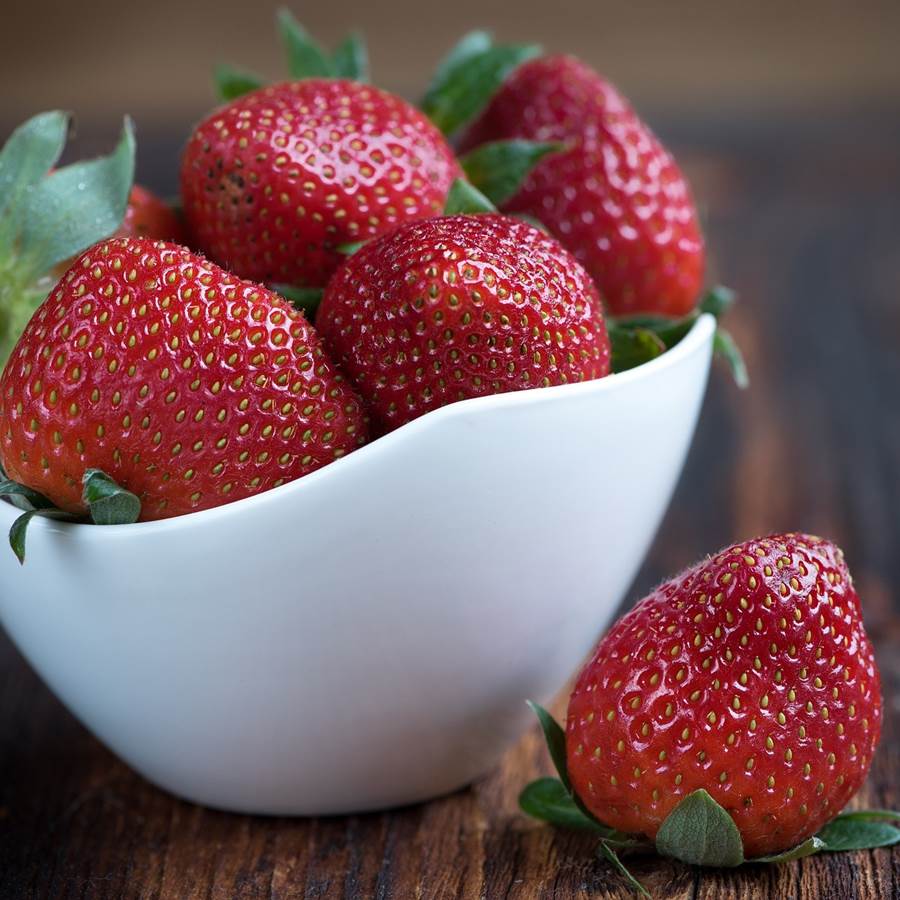 P. A. Arbuckle and Sons is a long running family farming partnership, and have been fine-tuning their craft for over 70 years. The farm lies on a district boundary, and dips its toes into all of Angus, Tayside and Perthshire. They currently grow soft fruit, veg, and cereals, and care for free range hens, and cattle. 
They took the step to open their farm shop in the summer of 2014. They have no ambition to be the biggest farm shop around but would  rather focus on trying to become the best. That starts with producing the most mouthwatering berries and tasty free range eggs and extends to choosing only the best local produce to help stock their apple-crate shelves. 
20 Miles: Loch Leven's Larder, Kinross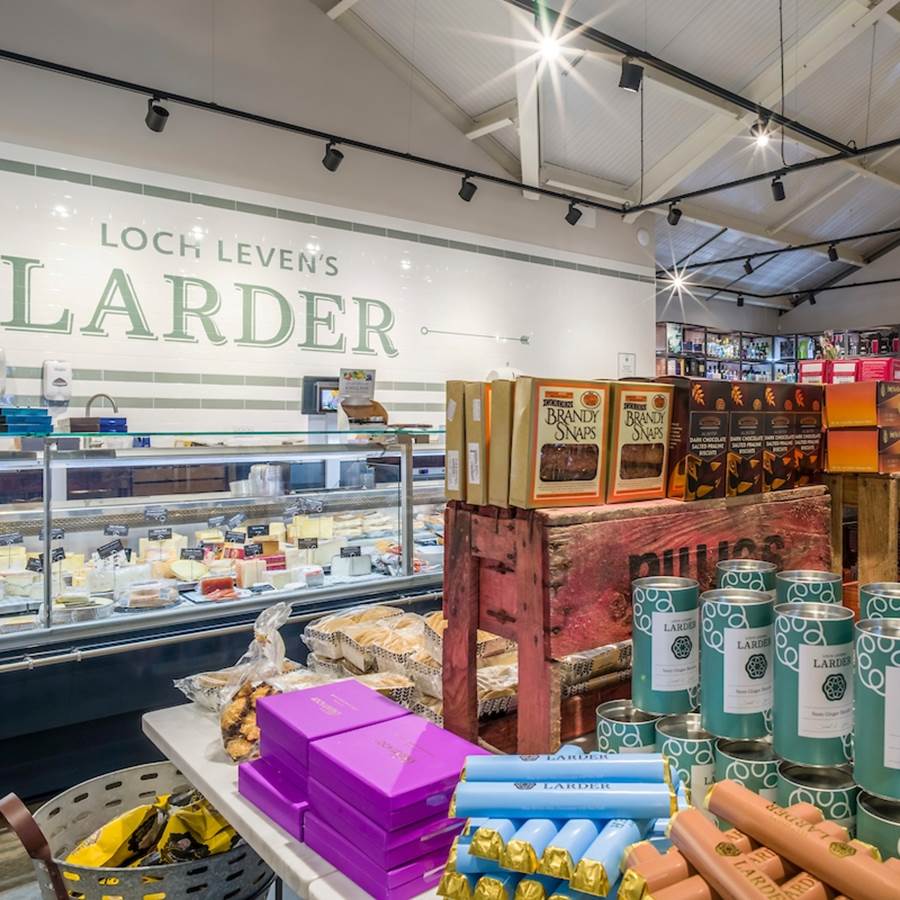 This well-stocked and award-winning farm shop overlooks Loch Leven, with its popular walks and cycle routes and is an unexpected shopper's haven in a scenic rural setting with a food hall, deli and gift shop. 
The Larder Café and Greenhouse Café offer a great range of dishes, particularly those that make use of the vegetables grown in the surrounding fields.
There's a spacious indoor area, outdoor seating and even a small adventure playground. Further round Loch Leven, you'll find "The Pier", another Loch Leven's Larder outlet for delicious takeaway food.
26.5 Miles: Errichel House and Cottages & Thyme Restaurant, Aberfeldy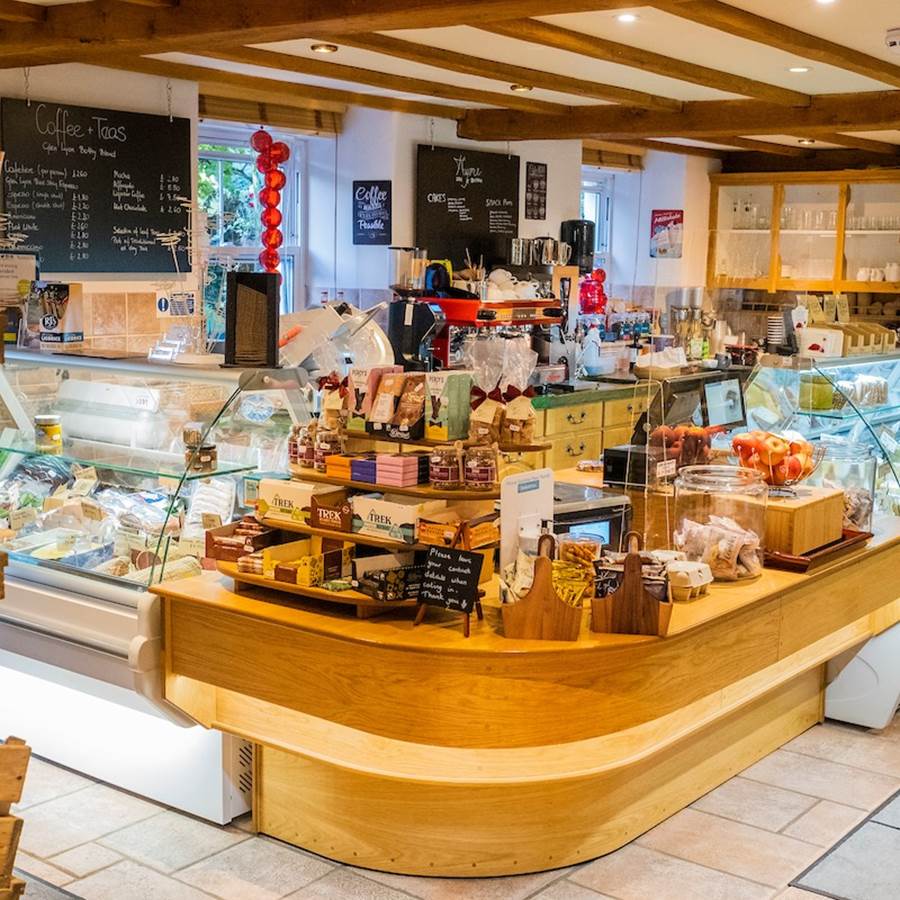 With enchanting views towards Aberfeldy, Errichel is home to a series of cottages and a stunning restaurant with rooms. The menu showcases the meat and eggs produced on the farm and uses award winning chef-owner, Paul Newman's culinary experience from across the world to infuse international flavours in dishes likes venison tagine or African street food-inspired Perthshire Lamb, Tomato and Onion Curry.
The farm shop boasts a well-stocked cheese counter, award-winning homemade jams and preserves, delicious Deli meats including Errichel-reared beef, and a delicious selection of hand-made 'ready to heat' frozen meals.
29 Miles: The Scottish Tea Factory and Courses, Comrie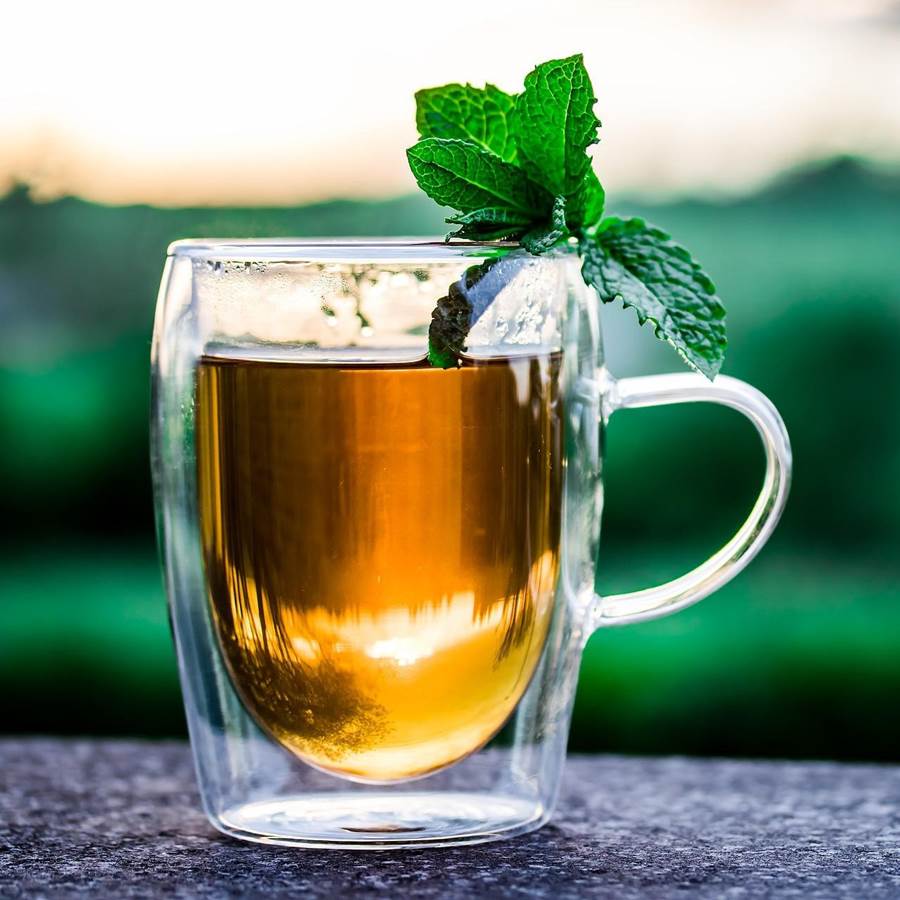 The Scottish Tea Factory is a small working tea factory where artisanal teas are produced for Scottish growers. Various tea courses are also run including two online courses - How to grow and make different types of tea at home and How to grow and make black and green tea professionally on a small scale.  Tea  plucking  &  making  courses  are available  over  the  summer  months at the factory.
Consultancy advice is offered for would be tea growers and tea makers world-wide along with international tea tours.